Here at OPE Reviews, you'll typically find relatively large handheld tools, ZTs and tractors, and even super-heavy equipment. However, on occasion, we like to hit the small gear that can make a difference when you're outside. Whether you're in the yard, working on a landscaping project, or camping with the family, a good pocket knife is useful. That's why our staff wanted to put the Gerber Assert Pocket Knife in their hands.
Here's what they thought of it.
Pros
Made in the USA
S30V high-end steel
Lightweight
Excellent grip
Modern clip point blends excellent piercing and slicing
Adjustable thumb stud
Multiple options for one-hand opening
Pivot lock keeps fingers out of the way of the closing blade
Customizable
Cons
Out of range of some budgets
Gerber Assert Pocket Knife Blade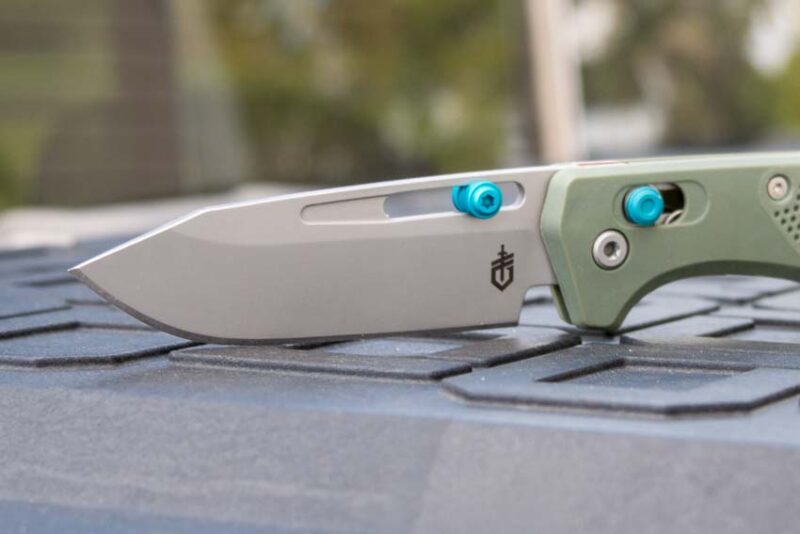 First and foremost, we should note that Gerber made this knife using S30V steel–that's a solid blade. Now, if you've ever watched History's Forged in Fire (or you're just well-informed), you're probably aware of the qualities a knife should have. In terms of material, S30V tends to have it all.
For example, this blend has great edge retention and corrosion resistance, meaning that usage won't affect the blade as much. Additionally, the blade won't rust as easily. That said, sharpening the knife can be tough.
The blade on the Gerber Assert pocket knife opens with thumb ambidextrous studs. But it has some unique characteristics. For instance, the slot where you install the studs gives you the option to loosen them so that you can position them at the point that's most convenient for your hand.
Our staff found that extending it to about a 1/4-inch made it easier to open.
Gerber Assert Pocket Knife Handle
Gerber makes this model's handle out of glass-filled nylon. The main benefit here is that it lightens the knife. Indeed, the Assert is only 1.87 ounces.
As far as the frame lock is concerned, this knife uses the pivot lock variation. Usable on either side or both together, our staff liked how this lock design keeps your fingers out of the blade's path when closing it.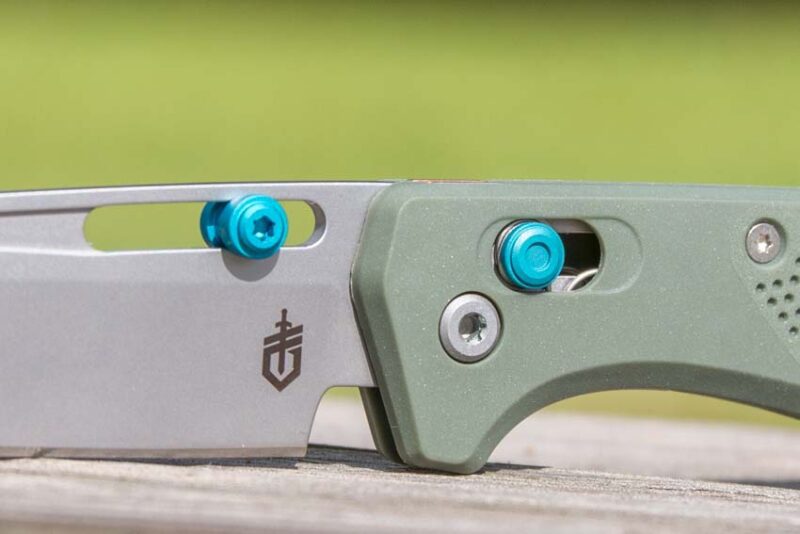 The clip is a deep-carry design, and it's left/right reversible in the tip-up orientation. What's more, we thought the lanyard hole was a nice touch.
Gerber Assert Pocket Knife Price
Standard versions of the Assert are $175–$180. This is also a customizable model. Either way, it comes with Gerber's limited lifetime warranty.
The standard configurations are as follows:
Black with black hardware
Grey with orange hardware
Green with teal hardware
You can also customize the knife using these available options:
Black oxide, stonewash, or satin finish
Pattern, image, or text blade lasermarks
Black, foliage green, grey, drab red, or coyote brown handle color
Satin, stonewash, or black oxide deep carry clip, stonewash or black oxide standard clip (or no clip)
Barrel spacer color (6 color options)
Thumbstud color (6 color options)
Lock cap color (6 color options)
The Bottom Line
We think the lightweight Gerber Assert pocket knife stands out for its blade material and its piercing and slicing capabilities. Moreover, it's always nice to see a customizable product and one that the manufacturer makes in the good old US of A.
As we mentioned earlier, our experience tells us that this is a dependable tool, whether you're on the jobsite or the campsite.