Worx Nitro 80V Backpack Blower Rockets Into Contention
Even the best battery-powered leaf blowers have to deal with the twin dilemma of producing lots of power while running long enough to get the job done. The Worx Nitro 80V backpack leaf blower (model WG572) uses a swappable Base Camp system that combines four 20V batteries into a single system. Our key question had to do with whether that was enough to generate the runtime expected of even a homeowner-level backpack leaf blower.
Worx Nitro 80V Backpack Leaf Blower Features
This backpack blower combines the included 4 x 20V Worx batteries together to achieve its 80V power output. This is the same system used in the Worx Nitro 80V lawn mower. Rather than supply four separate slots in the mower, similar to the Makita XYZ, Worx houses the batteries in its BaseCamp module.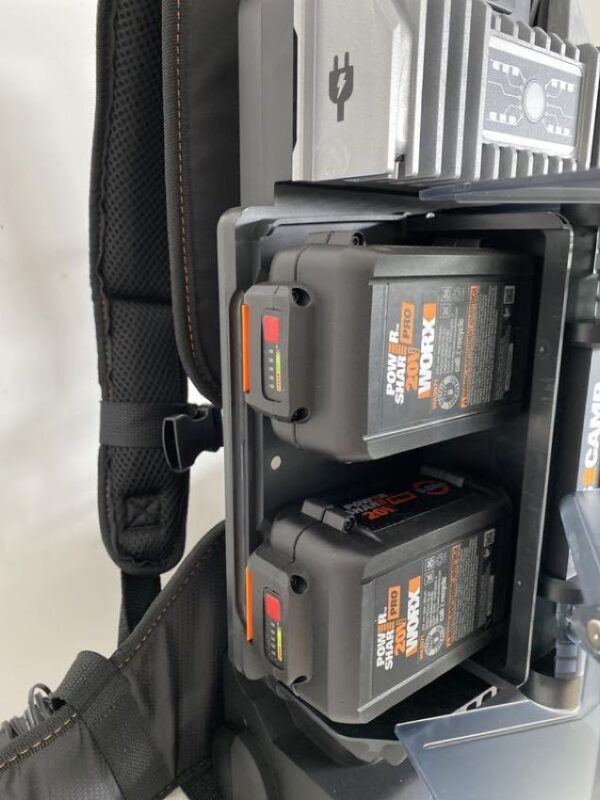 Conveniently, the BaseCamp system also charges all four 20V batteries at the same time when you plug it in. When you have all four 20V batteries topped off, simply dock the entire BaseCamp power supply into the backpack blower and connect the cable.
In case you wondered, this backpack blower operates at 80V. That means you need all four 20V batteries in order to power it. Fortunately, BaseCamp manages the batteries so they draw down more or less evenly.
Inline Fan Design and Blowing Force
Similar to the Greenworks 60V backpack blower, the Worx Nitro WG572 uses an inline turbine fan design and a brushless motor. It puts out up to 800 CFM of air volume with a top speed of 150 MPH.
Dual intakes let it pull in additional air for greater output. While we haven't had a chance to test it yet, 800 CFM tops anything else on the market so far. Color us…hopeful.
The Worx Nitro backpack blower claims a respectable 16 Newtons on High and 22 Newtons in Turbo mode. We've seen higher overall blowing force (some tested models reach as high as 25N or more). Still, 22 Newtons in a homeowner brand backpack blower breaks some new ground for certain.
Additional Features
Variable air control nozzle modes include: high-volume, high-speed, and turbo
Padded adjustable shoulder straps
Chest and waist straps
3-1/2 hour runtime on Low
Weighs < 24 lbs with batteries
Worx Nitro 80V Backpack Leaf Blower Price
The Worx Nitro blower retails for $699.99 as a kit. The kit includes four 20V 5.0Ah batteries, the Base Camp system, and a charger. Compared to other battery-powered leaf blowers on the market, that's not cheap. We do like that it includes a 5-year warranty.
Specifications
Model: Worx WG572
Power Source: 4 x 20V batteries (all four required)
Dimensions: 56.5 x 18 x 24.4 inches
Weight (w/ batteries): 23.6 lbs
Decibel rating: 83 dBA