Get Performance and Runtime with the HART 21-inch Self-Propelled Lawn Mower
Hart Tools may have started with very entry-level products, but the 21-inch HART 40V self-propelled lawn mower shows promise. Fortunately, the mowing season in Florida extends beyond much of the rest of the country. That gave us a chance to put this tool to the test to see what it could accomplish.
Pros
Folding handle, vertical storage
Bag, mulch, or side discharge
Single-point deck height adjustment
Power boost mode gives you a brief jump in power for cutting thick grass
Above-average cut quality
Cons
The presence bar creates a somewhat awkward grip
Can easily bump the drive speed slider while mowing
HART 40V Self-Propelled Lawn Mower Design Notes
Lightweight, corrosion-resistant 21-inch composite deck
Fast-Fold handles lets you easily store the mower upright and save space in your garage or shed
Quickly adjust the deck height between 1 inch and 4 inches with a single-point adjustment
Front LEDs let you mow longer into the evening
A sliding thumb switch lets you easily adjust the drive speed to match your preferred walking pace
Using the HART 40V Self-Propelled Lawn Mower
Cutting Power
The brushless motor on the Hart 21-inch lawnmower spins the blade while maintaining power. We felt it cut through both Bahai grass and thicker patches of St. Augustine without too much difficulty. The 40V mower definitely cut with more confidence than some of the HART lawn mowers we've previously reviewed.
With a mower like this, having a temporary power boost feature came in handy. The HART 40V self-propelled lawn mower does a good job of adjusting power automatically. However, the power boost feature lets you press the mower start button to proactively increase blade speed and torque when approaching a tough area of grass. The increased speed mode activates for around 6 seconds before it drops back into its normal operating mode.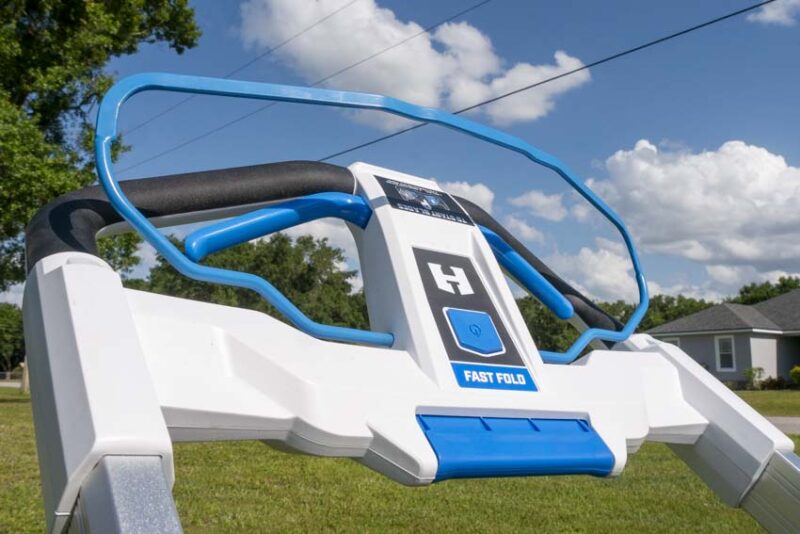 While the top-performing battery-powered mowers we've tested outshine this tool, they also cost hundreds of dollars more. For homeowners looking to ditch gas, the Hart Tools 40V self-propelled lawn mower compares to a 140cc product.
Cut Quality
The HART 40V self-propelled lawn mower lets you mulch, bag, or side discharge grass. It also includes everything you need to work on either of these modes. We also liked that it used a true side discharge as opposed to a rear attachment. Each method has advantages, but for consumers, a true side-discharge makes a lot of sense. We also noted that this mode let us distribute grass clippings several feet outside our mowing path.
If you prefer mulching, you install the plug by lifting the rear hatch and seating the plug. This closes off the bagger chute and gives you better lift inside the deck. We thought the Hart 40V lawnmower did a much better job at mulching than past models. It performed similarly to other mowers positioned as mid to high-level solutions.
Cut Evenness
Examining our cut path, we were definitely pleased with the evenness of the cut. Save for a few stray blades, we saw big improvements to how uniformly it cut the blades.
Runtime
While the 21-inch HART 40V self-propelled lawn mower has two active battery bays—they don't actively switch over. That means that you have to flip the red key underneath the lid to go to the other battery when one runs out. Obviously, this also requires a restart. Those with smaller lawns under 1/4 acre can likely run this mower on a single 40V battery.
Given optimal conditions, HART estimates you can cut up to a 3/4-acre lot with a pair of 6Ah 40V batteries. We tested runtime with a medium maintenance cut (2-inches) on a dry day with temps hovering right around 90° F (runtime tends to drop slightly at higher temps). With the two 6.0Ah batteries included in the kit, we cut for almost 51 minutes. Hart's estimation may seem a little ambitious, but they likely tested with a 1-inch cut. We estimate you can plan to cut a 1/2-acre without having to change out the packs to finish.
HART 21-inch Self-Propelled Lawn Mower Price
Grab this HART mower at Walmart for $498. It comes with two 6.0Ah batteries and a rapid charger that'll charge each battery in one hour. It has a 5-year limited tool warranty as well as a 3-year limited battery warranty.
The Bottom Line
After using the 21-inch HART 40V self-propelled lawn mower we're impressed with the improvements in performance, cutting performance, and design compared to last year's models. The design team over at HART set their sights high and stepped up to compete well against other mowers in the $500 range.
To check out the full HART 40V lineup, click here .
HART 21-inch 40V Self-Propelled Lawn Mower Specifications
Model: HART HLPM061US
Power Source: HART 40V battery
Cutting Swath: 21-inch
Accessories: mulch plug, side discharge chute, collection bag
Motor: Brushless
Self-propelled
Cutting Height: 1-4 in.
Deck Height Adjustment: 7-positon single-point
Warranty: 5-year tool, 3-year battery
Price: $498 (kit)