The average yard in Florida gets cut about 40 times per year. Depending upon weather effects, like El Nino, this can vary by a couple cuts. Regardless, pretty much between April and October lawns in Central Florida are visited weekly. Add this cutting volume with our sandy soil and you're sharpening blades, a lot! Well, unless you have the new LaserEdge mower blades by Fisher Barton. These LaserEdge blades cut themselves sharp, so you never have to sharpen them – ever.
How does this work? Fisher Barton has created a new material that is laser-impregnated onto the bottom of the blade. They call this material Eversharp, and it looks a bit granular, like large particles of sand, but it's actually more of a metallic substance. This Eversharp material is much harder than the steel in the blade, so it wears much slower. As the blade wears away, the material is still left on the bottom, keeping a sharp edge. We covered more information on the company and these new blades in an earlier article. We'll continue below with our actual review results and our final thoughts.
Related Read: Fisher-Barton LaserEdge Blades First Look
LaserEdge Mower Blades and Super Zs
We received two sets of three LaserEdge mower blades for the Hustler SuperZ Zero Turn mowers. One set was installed on a mower that is used commercially, and another set on a homeowner's mower that takes care of several acres each week. We felt this would give us good feedback across the board. The instructions were to leave the blades on and don't take them off, don't sharpen them, just use them.
After several hours of use, not a lot was noticeable that would be any different than typical blades. However, after 20+ hours of use, the blades started to show some wearing and the straight cutting edge (on the blade) was deforming a bit. You can start to see the upper metal wearing away, leaving the lower edge to stick out in front. While the blade edge was changing and showing age, the actual grass cutting was still excellent. No distinction in the grass like that of a dull blade.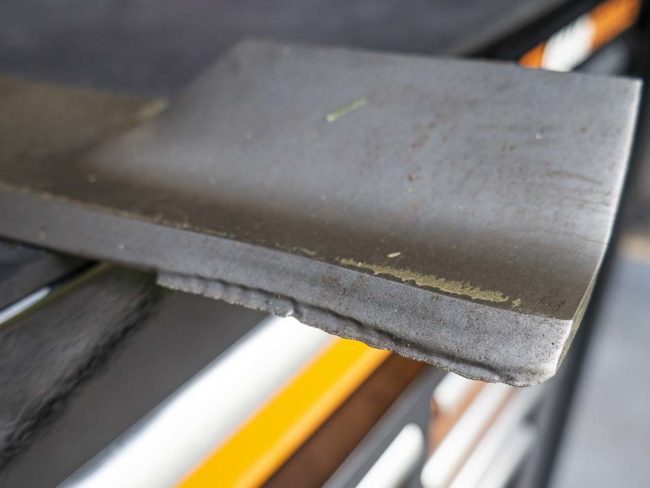 Now, after 50+ hours on the LaserEdge mower blades, a unique shape is forming on each blade tip. The Eversharp material is doing as they claimed, protruding in front of the softer steel, creating the new and constant cutting edge. Still, the cut quality of the grass remains the same, with great results and feedback.
Safety and Labor
During these Spring and Summer months, it's not uncommon for Pro landscapers to sharpen blades more than once a week. Such is the case with one of the Super Z zero turns we installed our LaserEdge mower blades on. Jasso Landscape Management has been in business for more than 30 years, and they have a fleet of mowers in service every day. Joe Jasso (owner) said: "It's refreshing to see the performance of these blades are even better than the marketing claims." He would typically change blades after 4 sharpenings, and they're still on the same set of Fisher Barton LaserEdge mower blades since June (it's now September).  Joe's next question was: "when can I get a set of LaserEdge mower blades for my Exmarks and Kubotas?"
Aside from saving the hassle of replacing blades every day or two, there's also the safety aspect. Let's face it, jacking up and laying under a mower is not the most pleasurable experience, furthermore, sharpening the blades is not the safest job either. Saving the labor from 4 blade changes and sharpenings can be pretty significant. Consider, changing 3 blades probably takes 20 minutes, then sharpening blades will take at least another 20 minutes. Add this up through the year, for each mower, and that labor cost gets pretty high.
Fisher Barton doesn't make any claims as extending the longevity of the blades. They just claim there's no labor time spent on changing and sharpening for blade maintenance. Our experience, with two mowers, is that the blades actually seem to last longer. Albeit, the consumer's Super Z we installed these on, he had been purchasing "cheaper" blades that were not as thick. So, this opens another article in itself. Some users very well may see much longer runtimes, since the LaserEdge blades are the correct thickness.
Final Thoughts
If our pictures are worth a thousand words, does it make these LaserEdge mower blades worth 3x the money? Actually, it should. We don't know exact costs on these blades, but Fisher Barton says they are roughly 3-times the price of proper normal blades. The savings on labor should make up for this quickly. In addition, that's fewer times that someone is crawling under a mower to change out blades.
While the blades don't have to be sharpened due to grass cutting, you may encounter a rock that requires a little touchup and balance from a grinder. If you work around a lot of rock or gravel that cause damage to blades often, Fisher Barton doesn't recommend these blades for you. Typical turfs growing on soils and sands, these LaserEdge mower blades are a great choice. We're extremely happy with the performance and durability of these blades, which we've seen firsthand. We can comfortably recommend these to the Pro or homeowner.
Currently, the LaserEdge mower blades are available for Grasshopper, Big Dog, and Hustler mowers. For more information on LaserEdge, click here .