With an upgraded easy starting engine and a specially designed auger, the Briggs & Stratton 22″ SnowShredder clears any light to moderate snowfall winter can throw at it.
10-Second Summary
250 cc engine specifically designed for snowblowers
SnowShredder auger chops up icy snow as you go
22″ clearing width
30′ throwing distance
Push button electric start
Self-propelled
Price: ~$630
Notable SnowShredder Features
Briggs & Stratton 1150 Snow Series Engine: Briggs & Stratton specially designed the Snow Series engines to start up quickly and easily in temperatures up to -20°. They even made the controls easy to use when you're wearing mittens.
SnowShredder Serrated Auger: Fourteen serrated surfaces help this auger tear through icy snow faster and more efficiently. This is a design you won't find on anyone else's snow thrower.
Quick-Adjust Deflector
Push Button Electric Start
Electric Chute Rotation
Integrated Incandescent Headlight
Self-Propelled Auger Drive System
What You Can Expect
The Briggs & Stratton SnowShredder sports the kind of features and performance specs that will make light to moderate clearing a breeze. Its electric start 250cc engine generates 11.5 ft-lbs of torque, turning a serrated auger that's specially designed to work well in even frozen-over piles.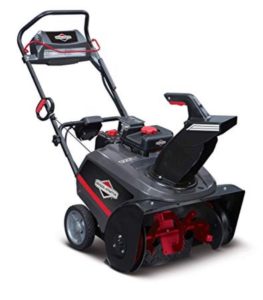 In case your throw clearance is a concern, Briggs & Stratton claims that this SnowShredder can chuck snow up to 30 feet depending on the conditions. Electronic chute controls will keep you from having to manually switch every time you turn, but you will need to set the throw height and distance by hand.
It is important to note that, while the SnowShredder will clear snow right down to the pavement, it doesn't have a height adjustment. If you have an uneven driveway, pay special attention to bumps and dips to avoid damage to your snow thrower or driveway.
Finally, you'll find a headlight just below the handle to clear after the sun goes down. It'll work before the sun comes up, but your neighbors might not appreciate the gas engine at that point.
Pricing
You're looking at roughly $630 to bring the Briggs & Stratton 22″ SnowShredder home with you. You can move down to a 208 cc version (9.5 ft-lbs) to save around $100 if you don't mind the power tradeoff.
The price is really one of the big deals for this model. Most snowblowers in the 250 cc engine class are at least $100 more expensive.
Briggs & Stratton 22″ SnowShredder Specs
Model Number: Briggs & Stratton 1696741
Clearing Width: 22″
Intake Height: 12.5″
Auger Diameter: 10″
Auger Type: SnowShredder Serrated Auger
Engine: Snow Series single stage 250 cc
Fuel Tank Capacity: 3.2 quarts (0.8 gallons)
Chute Deflector: Quick Adjust
Drive Type: Auger-Propelled
Throwing Distance: 30 ft
Torque: 11.5 ft-lbs
Chute Rotation: 200° Electric
Tire Size/Thread (in): 8″ x 2″
Headlight: Dual Incandescent
Consumer Warranty: 3-year
Commercial Warranty: 90-day
MSRP: $623.01